PONT-DU-GARD
---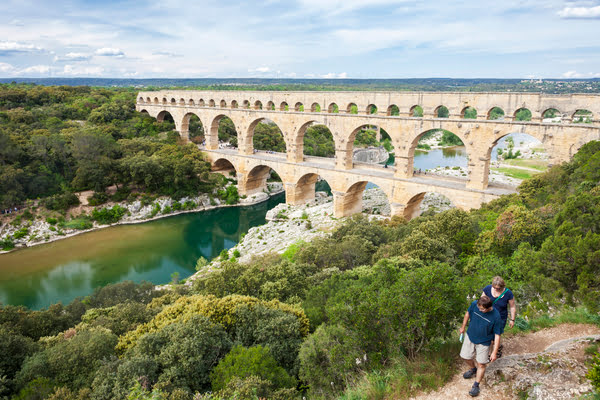 (c) photo : Aurélio Rodriguez
The Pont du Gard (on the communes of Vers-Pont-du-Gard, left bank and Remoulins, right bank), at about 40 minutes from our Domaine, is a bridge-aqueduct built by the Romans in the 1st century A.D. It was built by nearly a thousand men in only five years ! This grandiose monument is classified as a Historic Monument and is listed as a World Heritage Site by Unesco.
It is at the same time, the highest known bridge-aqueduct of the Roman world, but also one of the best-preserved Roman vestiges in the world. It is the only example of an ancient three-story bridge still standing today, and its engineering testifies to the extraordinary mastery of the builders of the time.
Today, we know that this aqueduct was not a vital necessity, but rather a prestigious work, intended to supply the thermal baths, gardens and other fountains of the city.
To discover this magnificent monument and the museum dedicated to it in more detail, we suggest you enjoy an excursion and go on a tour, free or guided, available every day and all year round. The visit is accessible to people with reduced mobility with the provision of wheelchairs, if necessary, and is free on presentation of a receipt for young people under 18 years in the family, for students, people with disabilities, and one accompanying person per disabled person.