This selection of specialities from the Gard region will definitely get your mouth watering … Goats produce the most delicious milk thanks to the fragrant hillsides on which they roam. A range of goat cheeses can be found at producers' outlets or at the markets. Delicate or strong flavoured honeys are also available from the regions bee-keepers. Olive trees are an integral part of the Uzège landscapes. The fragrant oil which goes so well with a simple salad or more elaborate dishes comes from is fruit. Olives can also be turned into a delicious tapenade. The main variety in the Gard in the Picholine olive, which is consumed when still green, and used to make oil when it is black. The Gard area is one of the key truffle producing areas in France. Truffles are harvested at the foot of oak trees and are used to make delicious truffle terrine, to season local dishes and to add a delicate flavour to poultry, foies gras, terrines and salads. Nimes is well known for its brandade cod dish – one to enjoy with friends! It is served piping hot with mashed potato, croutons rubbed with olive oil and black olives. And there is a particular way of preparing bull meat in the Gard too. It is marinaded in red wine, vegetables and seasoning for 24 hours, and then served with rice – from the Camargue of course! If it's a light snack you're after, try fougasse d'Aigues-Mortes, a brioche that is glazed with sugar and flavoured with orange blossom water. Unique to the region, the recipe is a closely-guarded secret…
OUR PARTNERS
The Fromagerie Gaec Gueit at Fons sur Lussan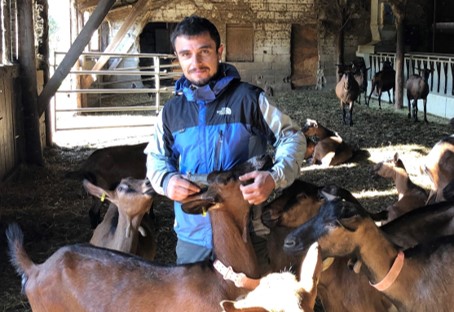 We are delighted to introduce you to the Fromagerie Gaec Gueit, which doesn't only produce goat cheese, but also produces organic lavender oil. Their goats who have had long working lives come to spend their final years with us at the Domaine and help us to ensure everyone's safety by maintaining our fire-break whilst providing a distraction for children and contributing to our compost.
366 Chemin du Château d'eau les Claux, 30580 Fons sur Lussan
fromagesdechevre.com
Tél: + 33 (0) 7 61 51 03 41
The fish farm les Fontaines d'Arlinde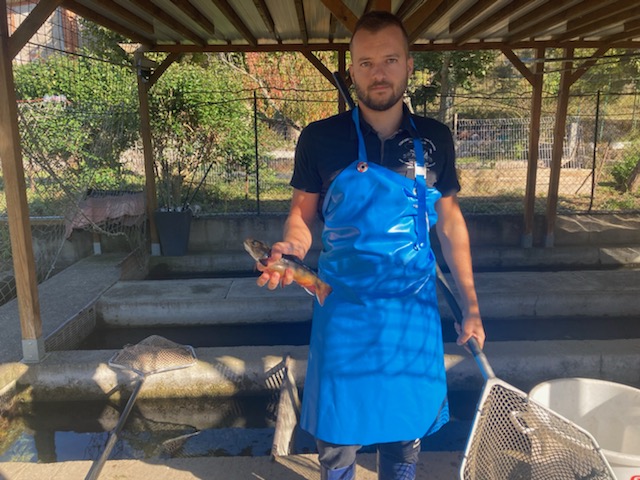 The fish farm "Les Fontaines d'Arlinde", located at Allègre-les-Fumades, is an aquaculture farm that passed down and is still passing down their know-how from generation to generation, as it has been owned by the same family since 1957. The fish raised there bathe directly in the source "La Fontaine d'Arlinde" which is a Romaine source and one of the largest in the upper Gard. The fish are fed with a range of organic food provided by "Le Gouessant acquaculture". This aquaculture farm provided us with beautiful fish for our restaurant throughout the season. The trout are fabulous, a must-try! You can go there and even catch your fish by your own and then share a nice moment of conviviality with family or friends.
Chemin de la Fontaine, 30500 Allègre les Fumades
www.peche-truites.com
Tél: + 33 (0) 4 66 24 81 15
The Epicerie Goutières at Fons sur Lussan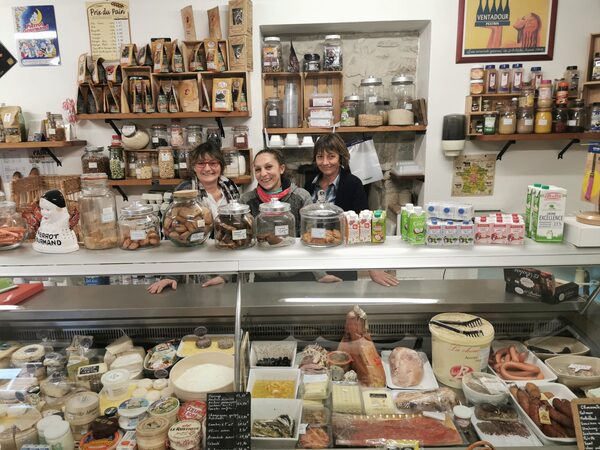 The grocery "Epicerie Goutières" is located at Fons sur Lussan, it takes only 5 minutes to get there by car. You can also go there by bicycle or by foot as it is a nice walk of about 45 minutes. This grocery store offers a variety of fresh and local products. A large number of local products made in the village can be bought. Among these, the "Béthanie" soap made from goat's milk, black pig terrines from "Baron des Cévennes", goat cheese from "Fromagerie Gueit" and even "La Sève de Fons" beer. Many beautiful discoveries, a unique offer and a welcome with a smile. The grocery store is also a well-known meeting and exchange point. Small adds, self-service books and lots of information and great advice on the spot.
(Please note that you can only pay cash or by check).
30580 Fons sur Lussan
Tél: + 33 (0) 4 66 72 89 76
The Ali Babio cave at Saint Ambroix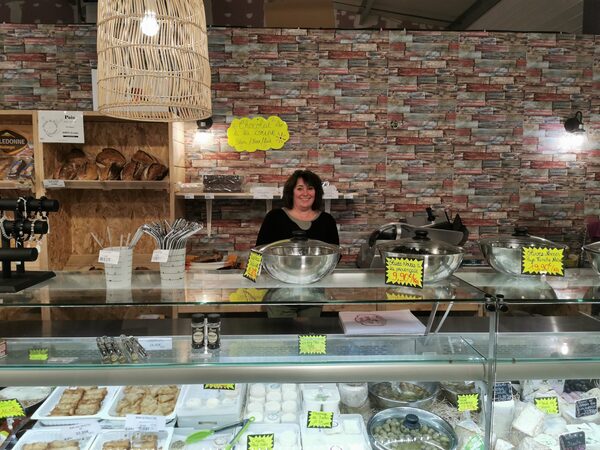 Located in Saint Ambroix, just 15 minutes by car from the Domaine, you can stock up on organic products offering a wide range of very good quality products from our supplier partner "La caverne d'Ali Babio". This store has the ethical mission to bring together a maximum of local products to promote a short circuit. The most local product is the bread which is produced directly in the town of Saint Ambroix. To finish with the packaging, we advise you to go there with your small boxes/bags as you can choose to by your cereals, pasta, rice without plastic or paper packaging. The household products that we use at the Domaine are supplied by this store. These products constitute, among other things, our current homemade laundry. Also note, that each week new promotional offers can be discovered in particular on their Facebook account "La Caverne d'Ali babio Saint Ambroix."
474, route d'Uzès, 30500 Saint-Ambroix
Tél: + 33 (0) 4 66 24 43 21
The Butchery du Clap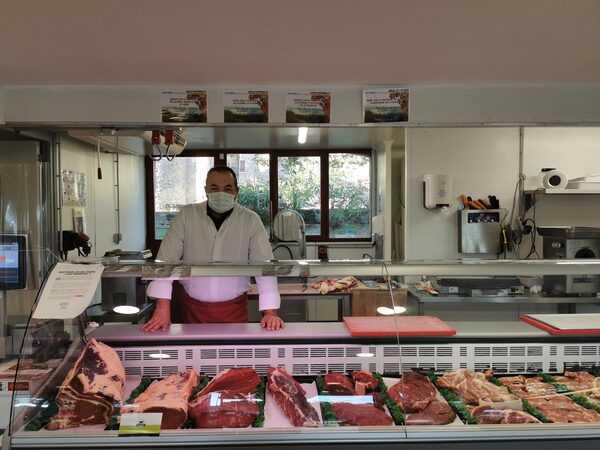 The "butchery du Clap" located at Méjannes-le-Clap, is one of our attracted suppliers. They knew how to seduce us thanks to the beautiful pieces of meat coming mainly from the Lozère and the Ardèche region and therefore provide us with local meat of high quality – to the delight of our customers at our restaurant. Thanks to Philippe Reille for his know-how and his welcome.
Place aux Herbes, 30430 Méjannes le Clap
Tél: + 33 (0) 6 14 01 66 31
The bakery and pastry shop "Le Pain de Sucre" at Verfeuil 
The bakery and pastry shop "Le pain de sucre" at Verfeuil, department Gard, France started its activity five years ago and continues to grow with the intention of opening a second store soon. The bakery welcomes you from Tuesday to Sunday from 6 am to 12.30 pm for the greatest pleasure of your taste buds. You will discover a large choice of local pastries, pies and bread of excellent quality. To know that all the products sold are home-made and that there is also the possibility of ordering personalized cakes for all kind of celebrations you may think of. It is this bakery and pastry shop that provided us with very good quality bread and cakes for our restaurant last season. Let us continue to support the short circuit by buying local products. This increases the value of the Occitanie region.
39, impasse des Olivettes, 30630 Verfeuil
Tél: + 33 (0) 4 66 74 11 64
The Coudert farm at Vallérargues
The Coudert farm located at Vallérargues in the department Gard, France is a well-known and much appreciated farm by the people in the surroundings. With a participation of only 3 €, you will be able to discover the magnificent universe of Bernard Coudert, the owner who has devoted a large part of his life to the development of this farm where today are living numerous animals such as bulls, pigs, ponies, donkeys, ostriches, peacocks and more. What better way to awaken the little ones than to discover animals. You can also discover a certain number of local products such as the meat of bull and ostrich, the terrines of pig and bull which were greatly appreciated by our customers of the restaurant of this summer. The farm also sells ostrich eggs whenever possible.
D979, 30580 Vallérargues
Tél: + 33 (0) 4 66 72 90 28