Developing the Domaine des Barons de la Chasse in a spirit of respect for the environment and society is a historical objective: Jack Letailleur, a former hunting pilot, had the dream of building a vacation paradise, a place of well-being in the midst of a natural wealth of flora and fauna which it is important to preserve. The entire team of the Domaine works daily to make this dream come true and to make it discoverable for present and future generations.
Social responsibility of Domaine des Barons : a strategic focus for the years to come
In view of the global environmental and social challenges, the Domaine is convinced of the growing importance of sustainable development in tourism activities. This is reflected in the UN's Sustainable Development Goals (SDGs), which the Domaine voluntarily applies to achieve its own development objectives. As a priority, we focus on the following four objectives:
1. OFFER A PLACE OF WELL-BEING IN THE HEART OF A PRESERVED NATURAL AREA
The well-being of our guests is our number one priority. The sense of service, the welcome and the activities offered allow us to create a warm place where everyone, in an inclusive way, can feel refreshed and rested.
Develop comfortable and personalized housing : 500 m² of private plot, with a terrace for each accommodation (vs. more than 100 m² for 4-star establishments), Recovering and renovating 6 existing accommodations in a modern and environmentally friendly way, Fruit plantations (fruit trees, kiwis, grapes) and planters set up on the private terraces, free access for our guests
To come : Personalized renovation of two additional accommodations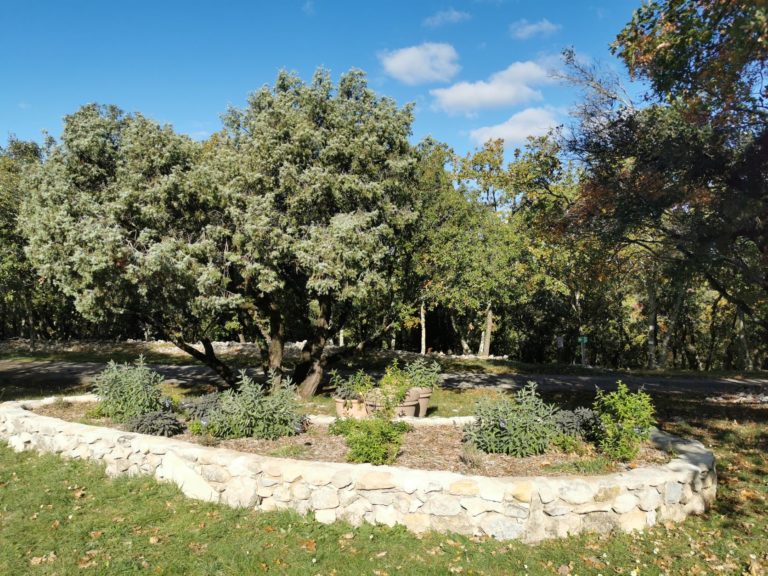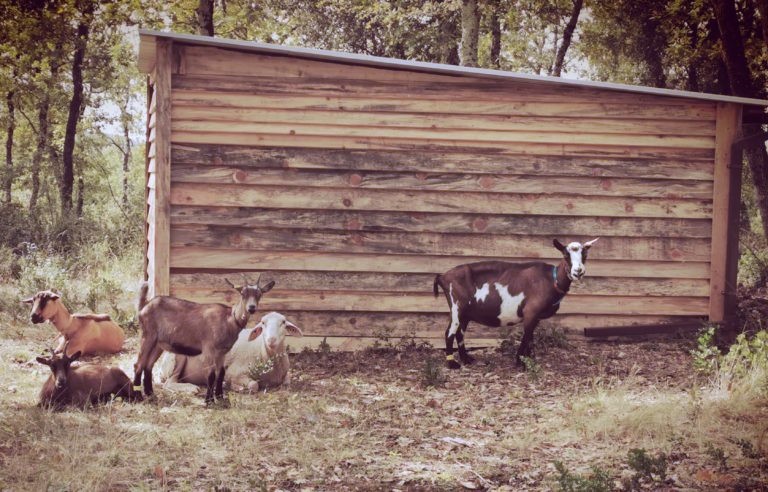 Serve warmly and bring well-being and rest to the holidaymakers : Availability of the Domaine by phone 24 hours a day, 7 days a week, Spoken languages: French, Construction of multiple sports activities: multisport, padel, tennis, fitness, petanque, playground for children, swimming pools…, Creation of a sheepfold to allow children and adults to discover the animals of the region: goats, sheep, Development of services at home/at the Domaine (hairdresser, body care, …), Welcome booklet – Domaine guide
To come : The construction of a pergola is planned near the pools to provide a natural shaded area, Creation of a zen space in the meadow facing Mont Bouquet
Develop an inclusive tourism approach : Domaine accessible for families with pets
To come : Develop accomodation accessible for people with reduced mobility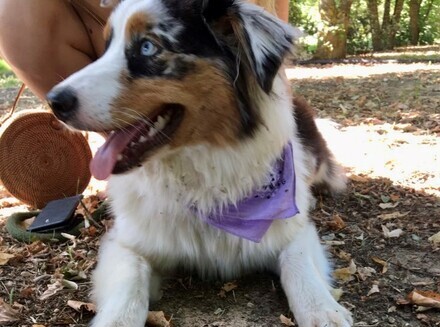 2. INTEGRATE A LEISURE HABITAT IN A SUSTAINABLE WAY WHILE PRESERVING THE EXISTING ENVIRONMENT
Our existing environment is our main asset : the entire team of the Domaine works daily to preserve it and make it more resilient in order to adapt to climate change and new weather conditions.
Reduce our energy and water consumption and therefore our carbon footprint : Carbon footprint measured for the year 2021, reference year, Installation of rainwater collection tanks on the plots for watering plants and for outdoor maintenance, Training and awareness-raising for the team to unplug appliances when not in use, to turn off lights and to respect a reasonable use of HVAC, In order to fight against water waste and to considerably reduce drinking water consumption, it was decided to order a "standard" dry toilet and a PMR dry toilet for our site. An added advantage is that there is no need to bring chemicals, Employees can either walk or use an electric golf cart to get around the park, Digital pollution: Our team manages mailboxes & documents on the server by deleting junk mail & obsolete documents.
To come : A project for the construction of a shelter for electric bikes is underway and will be carried out this year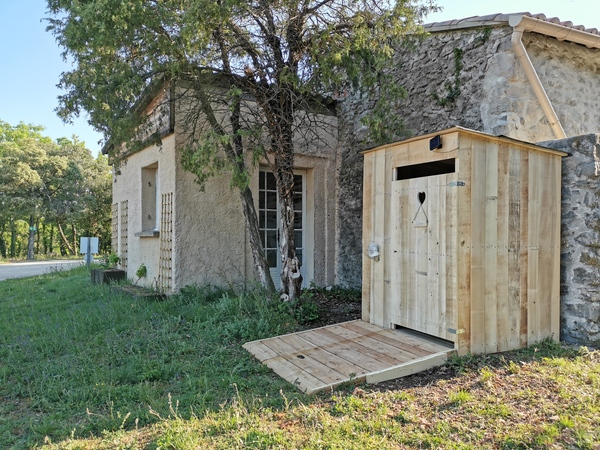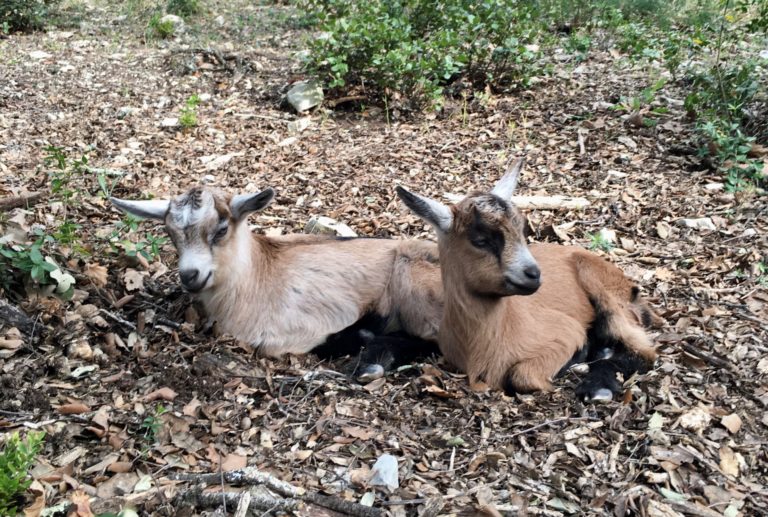 Preserve and make the Domaine resilient to climate hazards : The safety of the Domaine and of the vacationers is a priority : the firebreak is regularly maintained. To do this, the Domaine has decided to take care of retired goats and sheep (from the local Gaec Gueit cheese factory) who look after the mowing of the firebreak while entertaining the children and contributing to our compost, Smoking ban & awareness & training of holiday makers, Purchase of a rainwater tank in case of fire, Climate change training for the team
Reduce and recycle our waste and fight food recycling : Reuse and renovation of the existing accommodations on the Domaine : indeed, the end of life of these light constructions is not assured. Thus, we prefer to refurbish them by ourselves to avoid additional pollution, To be able to sort perfectly, we have set up 4 garbage cans (packaging, paper, glass, compost) in the accommodations. A garbage can for non-recyclable waste is also on site. The sorting point is located at the entrance of the Domaine where the columns and the compost are placed, and which feeds our hens to come. We also have a box for your batteries, In order to fight against food waste, the remaining stock of the restaurant was given to employees and young people of the village, after closing, Installation of compost bins for residents and holidaymakers, Follow-up of the volumes with the SICTOMU
To come : Project of henhouse-compost. Our goal is to recycle organic waste, limit pollution and promote biodiversity. At the same time it will allow us to feed the chickens and plants (compost production) of the Domaine. And the cherry on the cake : local production of eggs for the site's restaurant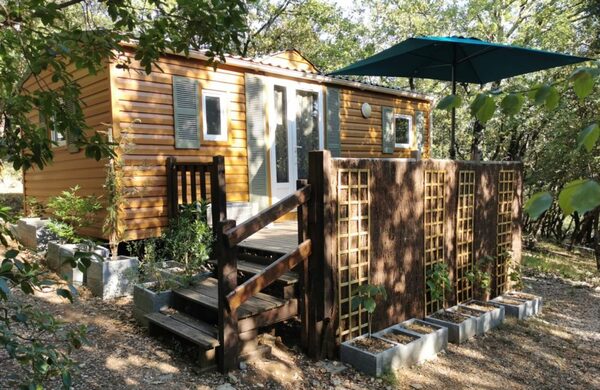 3. PRESERVE AND PROMOTE THE BIODIVERSITY OF THE GARD
Located in a Natura 2000 zone for birds, with 45 hectares of "garrigues", of which only 5 hectares are exploited, the Domaine is above all an open-roof living museum: the fauna and flora of the place are incredible, and many endangered species create their refuge within the Domaine. As the seasons go by, migratory birds and other species come to stay for a while to the delight of holidaymakers curious about their neighbors.
Preserve the fauna and flora : Fauna and flora impact studies carried out in 2013 and 2020 by Naturalia & action and awareness plan, Installation of numerous nesting boxes (by Symbiosphere) to welcome birds, bats and hedgehogs – an investment for the future and the joy of discovering "habitants" while walking along the paths
To come : We are currently studying the possibility of installing some beehives at the Domaine, Signage with explanations on different species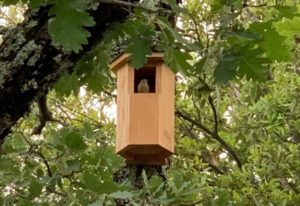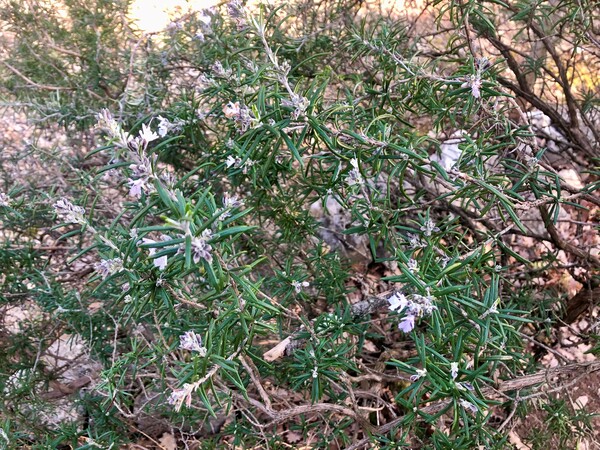 Raise awareness of local biodiversity among tourists to the Domaine and the region : Redo the signage that indicates information on the fauna & flora, We have set up two self-service planters. Help yourself, it's free! The first one contains an assortment of red berries and the second one contains aromatic and medicinal herbs.
To come : In addition to that, we have another project in the works – our own vegetable garden with organic vegetables that we would like to realize very soon so that we can serve you what will grow there in the restaurant.
Promote the biodiversity of the Gard : Local products used in the restaurant :
Boulangerie de Rivière : bread for toast & baguette
Ferme COUDERT : charcuterie
Boucherie de Méjannes : charcuterie & meat
Epicerie de Fons : cheese, charcuterie from Fons, apple juice
Fromagerie GUEIT de Fons : goat, tomme, reblochon
Amande de Bouquet : olives
Ferme GARCIA de Lussan: eggs
Pisciculture les Fontaines d'Arlinde : trouts
Domaine des Barons : herbs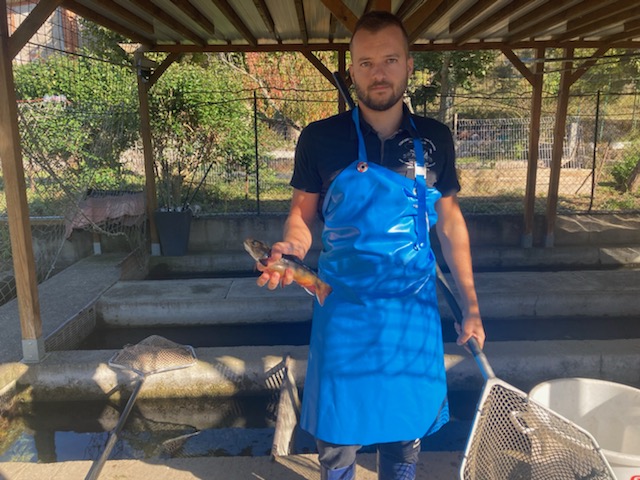 4. PROMOTE LOCAL EXCHANGES AND CONSUMPTION IN A PROCESS OF TERRITORIAL ANCHORING
The Gard is a magnificent region, with the typical products offered by the nature of this region and with the inhabitants and their know-how. The Domaine gives a new impulse to this territory by proposing mainly the activities and products of the region through numerous partnerships set up on the site.
Develop a human resources policy that cares about its employees and promotes employability in the region : Implementation of a new human resources policy, 4/4 employees from the region to support local employability, Training in cutting and pruning plants, climate fresco
To come : develop a training policy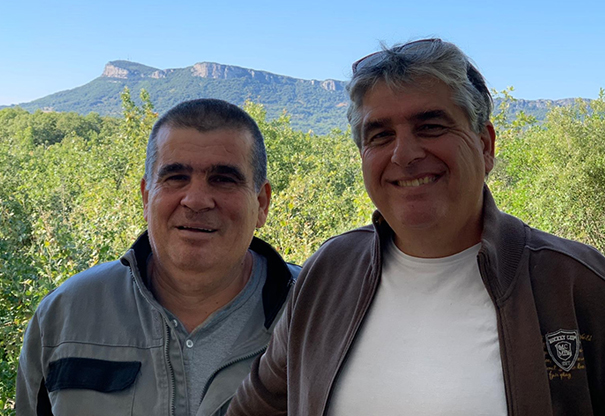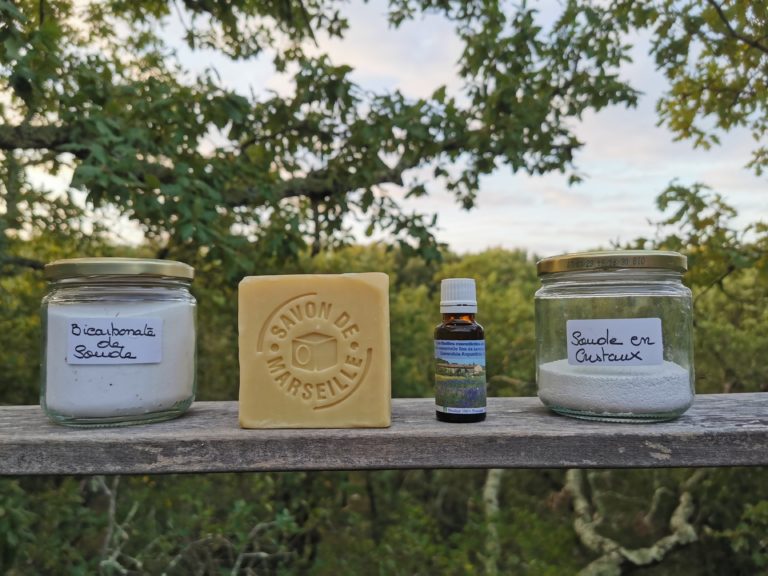 Today, we cannot avoid 100% of chemicals. However, we have set up a follow-up of the consumption of chemicals (date of use & reason) by clearly indicating which must be diluted.
Implement a responsible purchasing and service approach and mainly short circuit : Our laundry detergent is homemade with only a few simple ingredients that are: soap of Marseille, a few drops of lavender essential oil coming from the Epicerie Goutières in Fons-sur-Lussan, baking soda and water. Simple ingredients for a healthy and sustainable laundry! Our anti-limestone as well as our glass cleaner are also made on site, it is a simple mixture of lukewarm water and household vinegar and you're good to go, In order to offer sustainable food, we try to buy local, fresh, quality and if possible organic food. Our suppliers can be found on our website, but also on the map which is in the restaurant, We use recycled paper for our printing, notepads, toilet paper, cloths (with an ecological label). Apart from that, we have put in place measures to limit the use of printing paper (digitalization, reuse in drafts, double-sided & black-white printing), For our other purchases, we prefer : Products bearing a label (Ecolabel, OEKO-TEX), Recycled or recyclable products, Products made of natural materials, Wooden products, Ecological paints and varnishes for future works.
Promote the activities of the region : Website with sub-page showing the activities at and around the Domaine des Barons as well as the cities/villages to visit : Aigues-Mortes, Aiguèze, Alès, Anduze, Barjac, Beaucaire, Cornillon, Goudargues, La Camargue, Le Grau-du-Roi, La Roque-sur-Cèze, Le Vigan, Lussan, Montclus, Nîmes, Pont-du-Gard, Saint-Ambroix, Saint-Laurent-des-Arbres, Saint-Victor-la-Coste, Sauve, Sommières, Uzès, Val-d'Aigoual, Vézénobres, Villeneuve-lès-Avignon, Social networks : communication on different activities around the area : horseback riding, rock climbing, Green Park, Naturoptère, paragliding, water park la Bouscarasse, Casino Fumades les Bains, Dinopédia Parc and more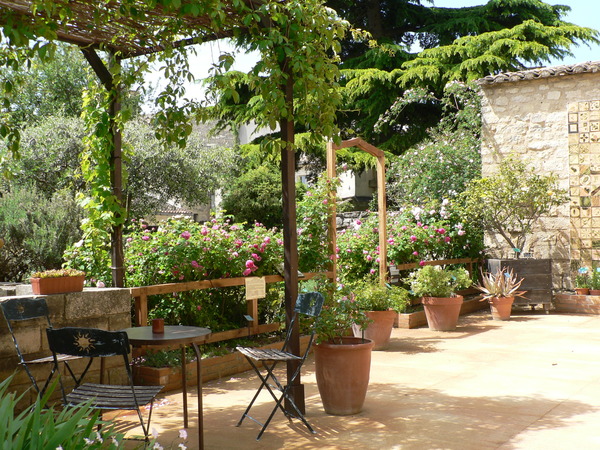 DO YOU HAVE AN IDEA HOW TO IMPROVE US, SEND YOUR OPINIONS TO CONTACT@DOMAINEDESBARONS.COM
NEST BOXES
---
With what we know today, we understand that is important to live in an environmentally friendly manner and particularly with regard to fauna. We have installed many nest boxes for birds and bats, as well as hedgehogs – an investment for the future and for the pleasure of coming across one of these "inhabitants" when you are out for a walk on the Domaine's trails! Why not try and spot the different kinds of nest box – we can provide you with information on the different species. Lots have already been spotted this year!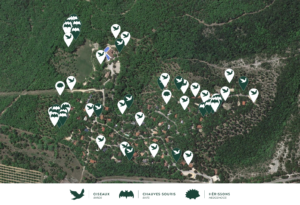 Would you like to read our studies? Do not hesitate to send an email to contact@domainedesbarons.com