Geology
Extensive forested area that makes up part of the Garrigues de Lussan, well-known for its ecological diversity (Natural 2000 site, ZNIEFF, national action plan area for some animal species).
Fauna and Flora
The site consists primarily of pubescent oaks and holm oaks, but there are also some open areas and transit areas, thereby forming a mosaic of different habitats (mixed and pubescent oak, holm oak, matorral and dry grasslands, erect Brome grasslands…).
These habitats play an important functional role for local fauna, whether they are used by species for transit, food or reproduction (Eurasian Scops Owl, European nightjar and European turtle dove).
Open to semi-open areas (scrubland, lawns, wasteland, thickets, etc.) are providing shelter for several heritage species during reproduction (Sardinian warbler, Eastern subalpine warbler and Woodchat shrike). These environments are the preferred hunting grounds of bats, such as the Common pipistrelle and Kuhl's pipistrelle.
The European hedgehog, however, prefers the areas of the site with shrubs and bushes for its reproduction.
Some dry grassland areas of the study area also shelter Aristoloche pistoloche, the host plant for a protected butterfly species, the Spanish Festoon.
The presence of species using these environments is essentially limited to a few common bird species in reproduction (Black redstart and White wagtail), and to certain species in transit or in search of food, such as the Barn Swallow.
Our impact
The Domaine des Barons de la Chasse is generally in its natural state and remains largely untouched by anthropic disturbances. Landscaped areas are restricted to the various dwellings in the oak forest and to a few forest roads and tracks.
Some localized buildings, however, constitute important reservoirs of breeding sites for synanthropic species of chiropterans (Pipistrelle and Serotine groups in particular) and breeding sites for the Wall lizard.
These environmental elements were highlighted during fauna and flora impact studies which took place from 2013 onwards and in 2020.
Our vision
The desire to commit to a sustainable approach that enables all of the Domaine's inhabitants to live together became an essential undertaking for the owners. To achieve this, they have been supported by :
Naturalia-Environnement, an organisation that offers advice and support and
Symbiosphère, a SCOP making wooden shelters available which have been specially designed to recreate the environments that help promote this threatened biodiversity.
Wishing you all a nice walk.
Alternative toilets
Dry toilets help save water resources, reduce pollution sources, and reuse our "waste" through composting.
NEST BOXES
---
With what we know today, we understand that is important to live in an environmentally friendly manner and particularly with regard to fauna. We have installed many nest boxes for birds and bats, as well as hedgehogs – an investment for the future and for the pleasure of coming across one of these "inhabitants" when you are out for a walk on the Domaine's trails! Why not try and spot the different kinds of nest box – we can provide you with information on the different species. Lots have already been spotted this year!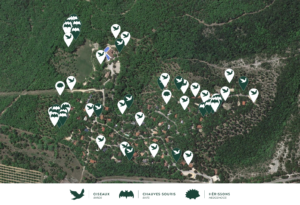 Would you like to read our studies? Do not hesitate to send an email to contact@domainedesbarons.com