UZÈS
---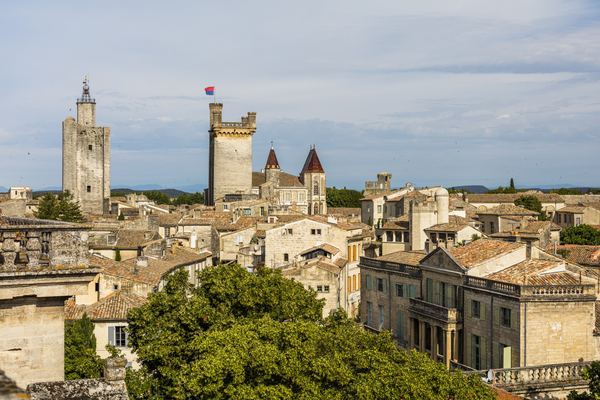 (c) photo : Aurélio Rodriguez
Uzès is a charming town in the south of France, located in the Gard department in the Occitanie region. The town has a rich history dating back to Roman and medieval times, and is famous for its exceptional architectural heritage, cobbled streets and stone houses.
The historic centre of Uzès is dominated by the Fenestrelle Tower, a medieval tower unique in France, which offers a breathtaking view of the town and its surroundings. Visitors can also admire the Cathedral of Saint-Théodorit, a 14th-century Gothic church with an impressive 18th-century organ.
Uzès is also known for its Saturday morning market, one of the largest and most lively in the region. Visitors can find fresh produce, handicrafts, clothing and accessories, as well as souvenirs from the region.
Outside the city, visitors can discover the natural landscapes of the region, including the famous Gardon Gorge and the Pont du Gard, a Roman bridge-aqueduct that is a UNESCO World Heritage Site.
Finally, Uzès is also known for its festivals and events, such as the contemporary dance festival "Uzès danse", the classical music festival "Les Nuits Musicales d'Uzès" and the photography festival "Les Rencontres d'Arles en Uzès".