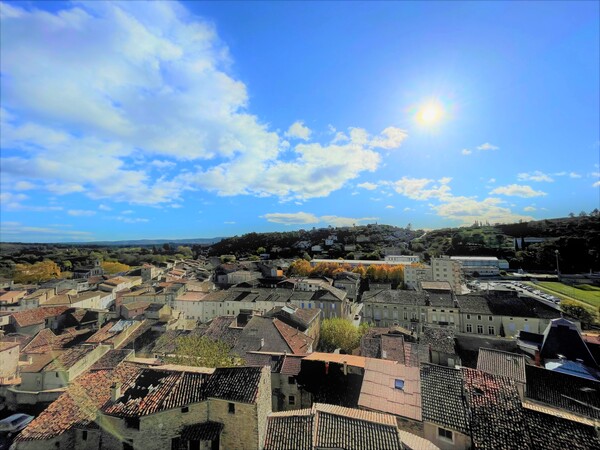 (c) photo : Xavier Borg – OT Cèze Cévennes
Saint-Ambroix is a charming medieval town in the south of France, in the department of Gard. It is renowned for its rich historical and cultural heritage, as well as its spectacular natural scenery. It is part of the Parc National des Cévennes (Cévennes National Park), and a gateway to the park.
One of the main attractions of Saint-Ambroix is its historic centre, with its magnificent stone houses, picturesque lanes and lively squares. Visitors can also explore the Dugas, a huge rocky outcrop overlooking the town. On this small plateau, which rises to a height of over forty metres, stands a curious building: the Chapelle du Dugas. It was built by Abbé Salignon, the parish priest from 1857 to 1869.
Saint-Ambroix also has its own legend: that of the flying ox or Volo Biou in Occitan. A medieval festival is dedicated to this ancient legend every year around 14 July.
Nature lovers will also appreciate the many outdoor activities available in and around Saint-Ambroix, such as canoeing on the River Cèze. Finally, visitors to Saint-Ambroix will also be able to discover the rich local gastronomy, with its culinary specialities such as wine, olive oil… The local markets are also an excellent way to discover the region's fresh, local produce. The Saint-Ambroix market, a firm favourite with locals and visitors alike, is held on Tuesday mornings throughout the year and is divided into two sections: textiles and food.
All in all, Saint-Ambroix is an ideal tourist destination for lovers of history, culture, nature and gastronomy, offering an authentic experience of the South of France.
ACTIVITY SUGGESTIONS
---
THE PREHISTORAMA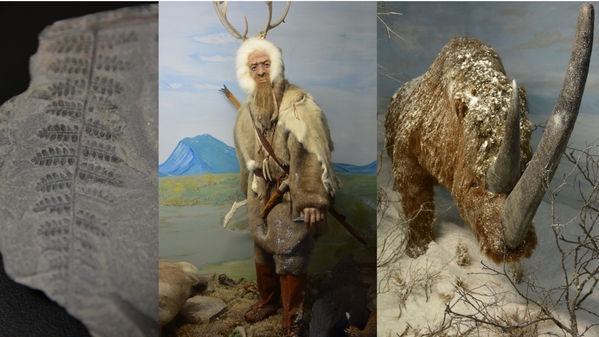 Le Musée Préhistorama in Rousson provides an understanding of the early times of life on Earth and displays its perpetual evolution. Visitors are taken on a journey through a gallery of 78 display cases containing almost 40 dioramas, recreated scenes of prehistoric life with life-sized humans and animals.
Every year, approximately 10,000 visitors cross the threshold of the Préhistorama. Genuine fossils and extremely rare fossil casts can be found here, totalling over 1,500 pieces from the personal collection of Bruno Guy, the President of the association Les Amis du Préhistorama. The lifelike sculptures of human characters and taxidermy animals are crafted with scientific precision by Eirik Granqvist, the museum's creator, who is a prehistorian, sculptor, and taxidermist.
COCALIÈRE CAVES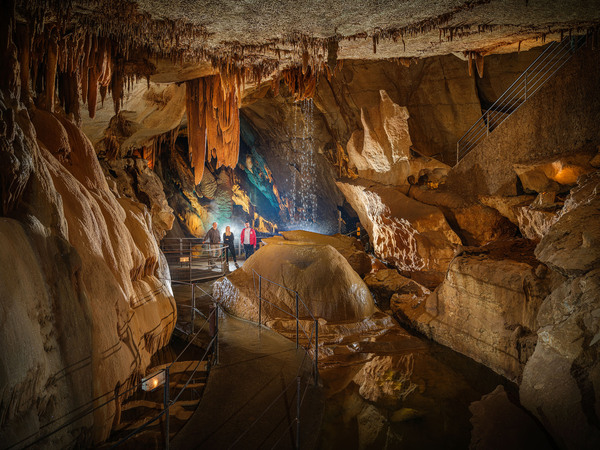 The Cocalière Cave is a cave located in the Gard department, a few kilometers from Ardèche and within the Cévennes National Park. It is considered one of the most beautiful caves in France and is open to visitors from March to November.
For 35 million years, the cave has been constantly changing. Several natural wonders can be discovered, such as disks and the cave pearl.
Visitors are accompanied by a guide during a one-hour visit. Experienced guides provide information on the geology, fauna, and history of the cave.
In addition to the guided tour, the Cocalière Cave also offers two discovery trail visits, each lasting 30 minutes. Visitors can enjoy the picnic area, the cave snack bar, as well as the souvenir shop.